Sonlight Conversations
– a casual get-together with spirited discussion, expert insights and practical information on a top-of-mind subject:
What Makes a Great Education?
June 23rd, 2015 — 6:00 PM (MDT) 8:00 PM (EDT)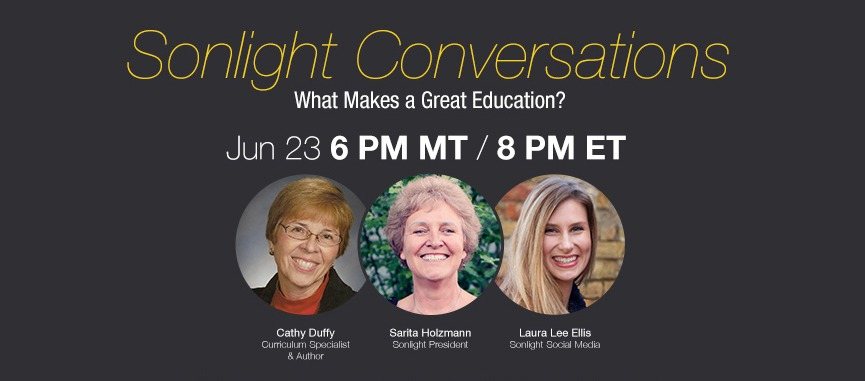 Join us for a relaxing evening of introspection and exploration, featuring Sonlight's Sarita Holzmann and Laura Lee Ellis, along with special guest and trusted homeschool curriculum reviewer, Cathy Duffy. Look forward to an inspiring evening where you'll have the opportunity to listen, learn, ask questions and win some sweet prizes, too!

Register for this FREE event now and enter to win a $250 Sonlight gift certificate. Must be present to win.
We'll be in touch by email to give you a link to the event and let you know how you can participate that night on our Facebook and Twitter pages. Weigh in on homeschool questions, hear success stories and tales from the trenches, and chat with other moms.

Enjoy a chance to win $1,000 in Giveaways
| | |
| --- | --- |
| Win a $250 Sonlight gift certificate! | Win a Summer Reader set + a copy of Cathy's latest book! |
---
Follow the event via social media for a chance to win even more of our giveaways.

Featured Speakers

Sarita Holzmann
(Co-founder of Sonlight Curriculum)
A pioneer in homeschooling, Sarita Holzmann started Sonlight Curriculum to help missionaries stay on the field "one more year." Her literature-based approach to homeschooling has proven to be a favorite for families all over the world. Now celebrating 25 years of Sonlight as a leading curriculum, Sarita looks forward to helping even more families raise lifelong learners in the next generation.
Homeschooling is more than just great books and making wonderful memories together. This community of like-minded people has the power to change the world. Together with thousands of Sonlighters, Sarita has recently helped over 360,000 children in India find hope in Jesus through Bible Clubs and tutoring. This heart for the reaching the lost permeates her work and pours into the curriculum and materials she creates. Her generosity does not stop there; Sonlight has awarded over a million dollars in college scholarships, enabling students to use their excellent Sonlight educational foundation to follow where God leads them.
Constantly looking for the best of the best materials, Sarita has read 13,000 titles (and counting) to create Sonlight's curriculum. She is a featured speaker at homeschool conventions and a regular contributor to homeschool magazines, blogs and radio shows. She is happily married, with four children and eight grandchildren. This year she is working on a book about her journey as a homeschool mom, entrepreneur, and Christ-follower. You can join her on the journey at sonlight.com/blog.


Cathy Duffy
(Author of 101 Top Picks for Homeschool Curriculum)
Cathy Duffy is best known as a curriculum specialist. As the author of the two-volume Christian Home Educators' Curriculum Manual (Elementary Grades and Junior/Senior High) she researched curriculum and methodology for all subjects and all grade levels. As the curriculum universe grew to be too immense for most homeschoolers to navigate, Cathy narrowed her recommendations down to the 100 Top Picks for Homeschool Curriculum (published by Broadman & Holman in February 2005). In 2012, she updated it with 101 Top Picks for Homeschool Curriculum (published by Grove Publishing) in both print and digital formats.
Cathy's website draws thousands of visitors each day. Her free weekly enewsletter alerts readers to her latest reviews, and her Cathy Duffy Reviews Facebook fan page also lets her followers know when new reviews are available.
Cathy began educating her three sons at home in 1982 and continued all the way through high school. In addition to teaching her own sons, she has taught numerous group classes for home educated students and church groups. Her extensive research and experience has made Cathy a popular speaker at home education conferences around the world.
In addition, Cathy has taken a broader interest in educational issues, authoring the book Government Nannies: The Cradle-to-Grave Agenda of Goals 2000 and Outcome-Based Education to address problems with "educational reform." Concerns about government schooling prompted Cathy to get involved with the Children's Scholarship Fund in 1998, piloting a $15 million scholarship program in Los Angeles. That program helped children from low income families attend private and home schools.
Articles authored by Cathy Duffy on a wide range of topics have appeared in The Teaching Home, Practical Homeschooling, Homeschooling Today, Christian Retailing, The Parent Educator, ParentLife, Family Resources, The Canadian Home Educator, The Christian Conscience, Homefires, Christian Home Education News, Ideas on Liberty, and many other publications.

Laura Lee Ellis
Laura Lee Ellis is a writer, speaker, former missionary to Africa, and a second generation homeschooler. She is a storyteller who is passionate about world missions and the potential of motherhood in shaping culture. She graduated summa cum laude from Union University with the top academic and leadership awards for her university and in her field of Communication Arts. She has contributed to national magazines and radio and works as a writer for Sonlight Curriculum.
She, her husband Nick and their three children recently returned to the States from the University of Oxford, England. They have lived in six countries and five states, devour good books, and believe in the power of stories to bring people together and inspire action.

Back to Sonlight